Hi and welcome Inside the Studio.
I'm back with another fun block for the Quilt Block Mania Blog Hop. This month the focus is lucky charms and I've got a Star Bright applique block to share with you.
What is the Quilt Block Mania Blog Hop?
Each month, a group of designers get together and create blocks around a specific theme and color palette. We then share the block patterns with you for FREE. It's a great way to meet new designers, try different quilting techniques and have some fun along the way.
Lucky Charms  – Star Bright
The theme for February is Lucky Charms. And the color palette includes several yellow, pinks, greens and orange. Here is a look at the colors all of the blocks will be featuring. You can find this color palette and more at Design Seeds. It's a great resource for color inspiration.
Star Bright
Wishing on a star was one of the first things that came to mind when I think of lucky charms. It made me thinks of the familiar nursery rhyme – Star Light, Star Bright. Remember that one?
Star light, star bright,
First star I see tonight;
I wish I may, I wish I might,
Have the wish I wish tonight.
My block is called Star Bright. This is an applique quilt block. I had so much fun last month with applique that I thought I'd take another try at it. For this block, I wanted to have a shining star that seemed to glow. Here's the drawing of the block and the sample that I made. I still need to do the applique stitching around the block. Check out my Instagram feed later this week to see the complete block.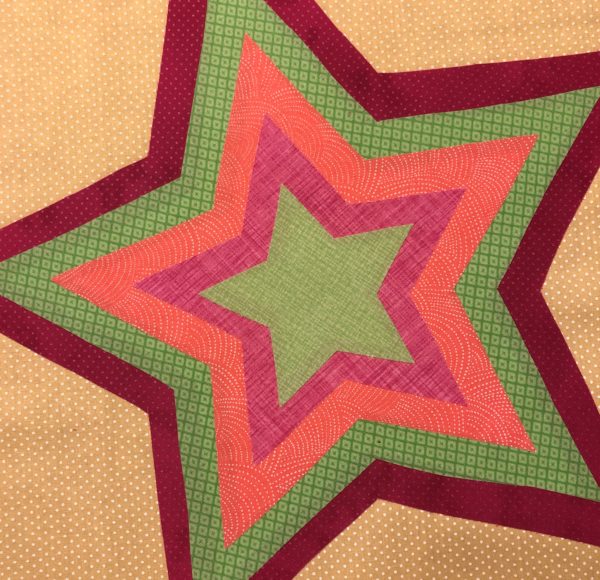 You can get the pattern for Star Bright for free. Download your copy today and have fun making this quilt block.
If you make my Star Bright quilt block, or any of the other participating designers blocks, be sure to tag #QuiltBlockMania on social media so we can all see the fun blocks being made.
See All the Quilt Block Mania Patterns
Lucky Horseshoe by Carolina Moore
Lucky Squares at Slice of Pi Quilts
Lucky Spin by Carolyn Burgess
Charming Wreath Block by Blockofthemodotcom
Lucky Squares Improv at Love to Color My World
Luck and Sunshine
Luck o' the Irish at Patti's Patchwork
Simply Charmed by Cotton Street Commons
Hi My Name is Lucky by Heidi Pridemore
Swedish lucky horse by duck creek mountain quilting
Charmed Clover at Perkins Dry Goods
Charming Lucky by Puppy Girl Designs
Star Bright at Studio R Quilts
Lucky Charms by QuiltFabrication
Magically "Quilt"lious
Wishing Stars
Heart Shine 4th by Sara Flynn
Lucky Shamrock Block
Lucky Gnome
Feelin' Lucky by Inquiring Quilter
Pastel Clover at Blue Bear Quilts
Daddy Hex by Pretty Piney Quilts
Pieced Lucky Hat
Sam's Pot of Gold
Love and Luck by PhoebeMoon Designs
Maneki Neko by Capaquilts
The Butterfly Charm


I hope you have fun following along on this blog hop.  know I had a great time making the Star Bright block. Thanks for stopping by the studio. I look forward to you stopping by again for more quilting inspiration and updates from Studio R Quilts.
Other News from Studio R Quilts