Welcome to this stop on the Chickadee Blog Hop. Hopefully you've seen some fun quilts along the way and have some new ideas for how you can use this colorful fabric collection from Island Batik. It was the bright colors of the collection that really drew me in, the fun chickens are farm motifs are also a big hit for this Wisconsin girl.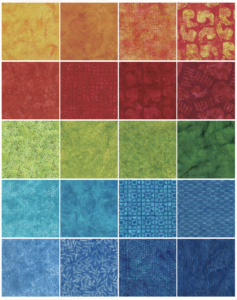 10" Square Project
We were asked to make a quilt project that uses 10" pre-cut squares. I thought my Sticks & Stones pattern would be a great one to showcase this chickadee collection. While not specifically designed for pre-cuts, the pattern easily can be adapted to work with 10" squares. You need a total of 26 assorted squares plus 1 ½ yards background fabric.
Light Blue is a Neutral
I have long been a big fan of using light blue as a neutral background color. It adds a subtle pop of color without distracting from the bolder prints. For this particular fabric line, it makes me think of a clear sky day out on a farm. I can almost hear the chickens clucking.
Fabric Pull and Cutting
I gathered all of my fabrics which included 20 different prints in the Chickadee collection plus Breeze, a light blue Kona solid and was happy with the look. This is a quick project to cut as you only need a few different size pieces of fabric. The quilt top for Sticks & Stones could easily been a quick weekend project.
To get a scrappy look, I randomly placed the fabrics from the Chickadee collection into the center vertical bar (stick) and the smaller rectangle (stone), making sure each block contained a set of contrasting fabrics.  This is a time when I don't want to overthink things. Instead, I focus on mixing things up making sure I'm not pairing fabrics from same two-color families together all the time. I can usually achieve a pretty balanced blend this way.
Sticks & Stones Quilt
Once I had the blocks all finished, off to my design wall I went. I like to organize the layout before I start joining blocks in to rows. The design wall helps me make sure I have color evenly balanced. Blocks quickly turn into rows and rows are quickly joined to make the quilt top. Nested seams really make lining up the blocks a breeze.  And another quilt top done. What do you think?
Beginner Friendly Pattern
Sticks & Stones is a beginner friendly quilt pattern. What I love most about it for a beginner is that it is very forgiving is you are off with your piecing. The sticks and stones portion of the block float on top of the background fabric. What I mean by that is, if you look the points where the blocks meet (where the red arrows are pointing), you'll notice the corners of the colorful fabrics never touch one another making any errors less noticeable.
Make Your Own Sticks & Stones Quilt
I hope you enjoyed seeing my Sticks & Stones quilt using the Chickadee fabric collection. If you're interested in the pattern, you can find it on my website. Both a print version and a digital version are available for purchase.