Welcome to the Calm Lagoon Blog Hop!
As the weather turns colder in Wisconsin I am escaping to a warmer place (if only in my mind) with this fun Calm Lagoon High Rise quilt. Calm Lagoon from Island Batik is the latest signature collection by Sherry Shish of Powered by Quilting. Clear hues of blues and greens remind me of some of my favorite island vacations. And the whales, turtles, and seashells make me want to go diving. Where does this fabric take you?
What to make, what to make?
When I first saw the fabrics, I knew immediately that I wanted to make my High Rise quilt with this collection. High Rise is a simple quilt design and is a great pattern for showcasing fabulous prints. And the larger pieced blocks let you see all of the great design that is going on in the fabric collection.  Psst – if you're liking what you see, you can purchase your own copy of the High Rise quilt pattern in my shop. I offer both print and digital version in all of my patterns.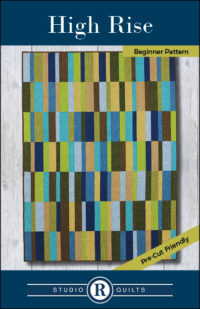 A Yardage or Precut Friendly Quilt
I opted to use 11 fabrics for this quilt, mostly because I wasn't aware of the pre-cut options. However, this quilt pattern really is ideal for 10" precut squares. One 42-piece pack of 10" squares is all it takes to make the quilt top and you will use every inch of that fabric pack. Add a backing and a binding and you've got yourself a finished project.
Don't you just love how the simplicity of this quilt design lets the Calm Lagoon collection shine. This is one throw size quilt that I am going to enjoy snuggling under during the long days of winter. Perhaps I'll spend that time researching a destination for my next island vacation, which is long overdue and much needed! I am sure many of you can relate to that.
Stop by All Participating Designers for More Inspiration
Are you loving the Calm Lagoon fabric collection and want to see more inspiration? Then you need to check out all of the amazing designers in the blog hop. Each day, you'll be introduced to a quilter/designer to see how they've used their fabrics and learn more about their projects. Don't worry if you've missed the first week. You can always go back and read the earlier posts when you have time.
Calm Lagoon is shipping to stores now. If you can't wait to get your hands on this collection, check out the Store Locator to find the closest quilt shop that carries Island Batik.
But Wait, There's More!
And there's more. Once this blog hop wraps up, we will be hosting an Instagram loop where you will have the opportunity to win some fun prizes. Watch for more details on this soon. In the meantime, see more behind the scenes photos of the Calm Lagoon High Rise quilt by following me on Instagram.
I'd love to see what you make with Calm Lagoon. Be sure to tag us #islandbatik and #calmlagoonfabric and share your quilting creations!
Other News from Studio R Quilts