Welcome to the Woodcut Blossoms Blog Hop
Today, we have a fantastic group of designers sharing a variety of project using the Woodcut Blossoms fabric collection by Heidi Pridemore for Island Batik.  Now's the time to grab something to drink, get comfortable, and settle in to explore the excitement of the Woodcut Blossoms Blog Hop.
This past year, I participated in several blog hops using different collections of fabrics from Island Batik. Since I don't work with batik fabric all that often, this has been a great way to add a new look to my quilt patterns. And the Woodcut Blossoms  is another fantastic color palette to play with. I am a sucker for colors on the cool side of the color wheel. Blues, teals, purples, and greens are an all to common default for me. There is something about them that is soothing and calming. Here's a quick peek at the fabrics in the collection and imagery that inspired the line.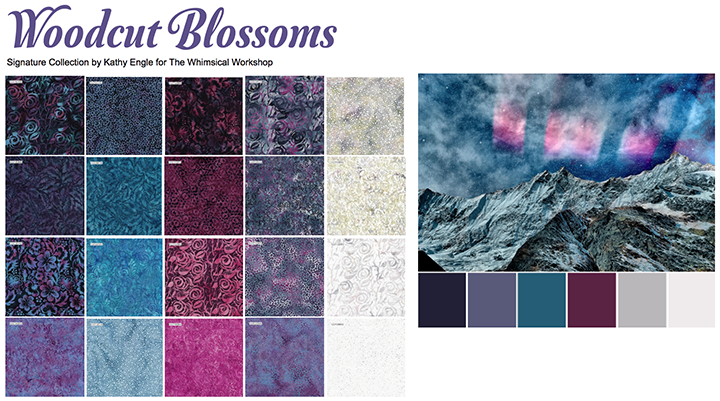 A Fun Mini Quilt
I wanted to jump right in to the making something with these fabrics and first up for me was a quick 4-block mini quilt/wall hanging.  In this recent blog post, I mentioned how these little wall hangings are a fun go-to project. Not only do I get to see how the fabrics play together, but I also love seeing how I can use simple design changes to make a more dynamic looking quilt. And here is what can out of this design session.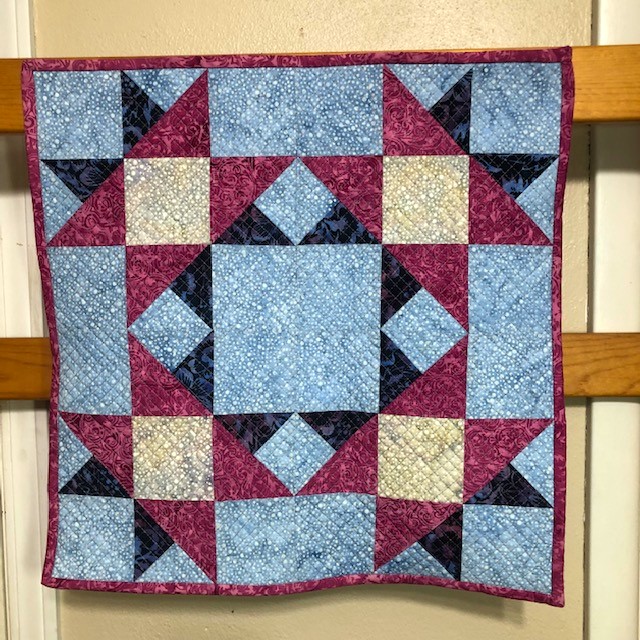 I added some straight line quilting, in a cross-hatch pattern. It really pops off of the purple background fabric I used.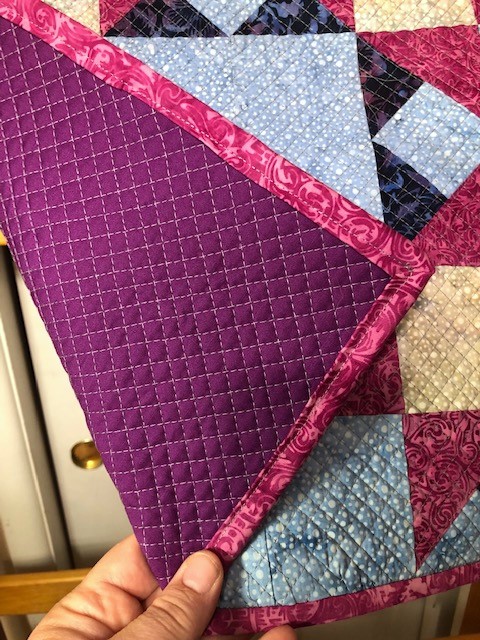 Dream Weaver Quilt
I then had to make a choice about what Studio R Quilts pattern I wanted to make up with the Woodcut Blossoms fabric. My final choice was Dream Weaver. I wanted something with a larger block that would showcase the fun batik designs and the blending of the colors. This pattern is also great for creating diagonal movement throughout the quilt. I then added a punch of magenta to play off of magenta highlights in the floral print.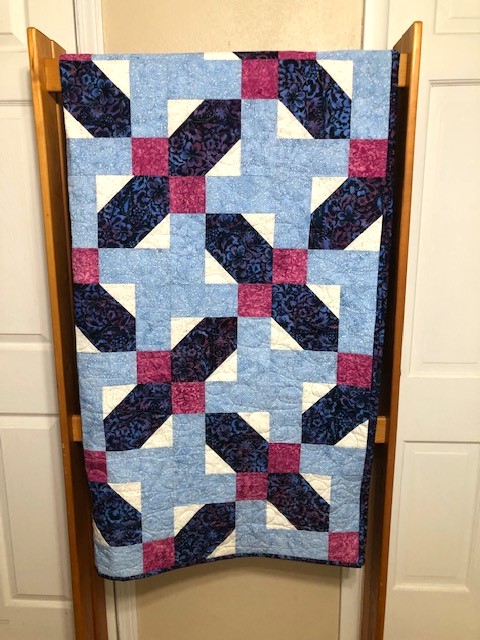 Dream Weaver Quilt Pattern
If you are loving the Dream Weaver quilt, you can get your own copy of the pattern in my shop. As I mentioned earlier, the block has larger pieces so it goes together quickly. Plus, you get this wonderful secondary design all with one quilt block. What colors would you pick to make Dream Weaver? Drop me a comment as I am always excited to hear other ideas on fabric choices.
The Blog Hop Designers
Now that you have seen what I have done with the Woodcut Blossoms fabric line, be sure to hop along to all of the other great designers that are participating in the blog hop. The links below will take you directly to their blog post featuring Woodcut Blossoms.

I hope you enjoyed the Woodcut Blossoms Blog Hop. Remember,  Studio R Quilts is just one stop along the blog hop and there is much more quilting inspiration to be seen. I hope you are able to visit them all.
Until next time, happy quilting!
Other News from Studio R Quilts