On the 1st Day of Christmas….Today kicks off my 12 Days of Christmas sale. I know, can you believe it's already December! Santa's made his list and checked it twice and all of that niceness has paid off. It's time to treat yourself to something new. Heck, after the year it's been, even those that were a bit naughty deserves to get something for themselves.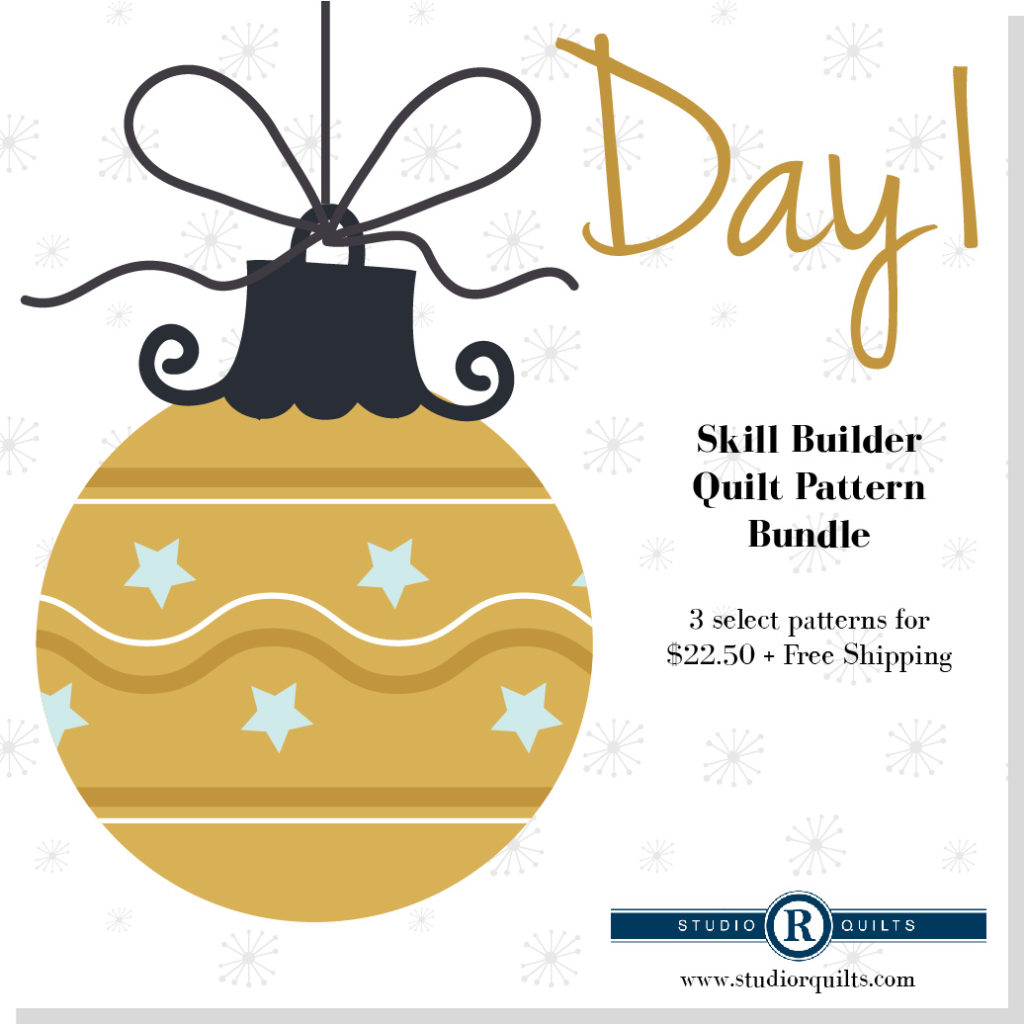 On the 1st Day of Christmas – December 1st
Skill Builder Quilt Pattern Bundle – $22.50
Today's special is a Skill Builder quilt pattern bundle that includes Square Dance, Two Step and Sock Hop patterns. Get all 3 patterns for $22.50 (that's $7.50 per pattern)! Plus, your order ships for free.
This is the perfect pattern bundle for the beginner quilter or those that are wanting something that works up fast. Quilt patterns in this collection include projects to help you improve your quilting skills and gain quilting confidence. Patterns create a throw size quilt using one block design and basic construction skills. Detailed instructions walk you through the entire quilt making process from cutting your fabric to attaching the binding. You also get a coloring sheet to experiment with your own colorways.
Want to know more about each quilt? Click the pattern link above for more details.
How the 12 Days of Christmas Works
Each day, a new item will be featured on my website at a special Christmas price. The special is good for one day only, from 12:00 AM – 11:59 PM Central Time. In addition to special pricing, orders will also include free shipping. (who doesn't love free shipping!). Sorry international folks, the free shipping is limited to US orders only.
Quantities are limited for each of these specials so don't hesitate.
Looking for Digital Patterns?
I am still working to get digital patterns set-up on my website. If you're interested in digital patterns you can also find this special in my Etsy shop for digital download.
Shop Small This Season
The Christmas season (and really, all year round) is a wonderful time to support your favorite small business. A big thank you to everyone who orders and helps support this small business. Know that your purchase makes a big impact.
Follow Along All 12 Days
Come back tomorrow to see what we have in store for day 2 of the 12 Days of Christmas.
Thanks for stopping by the studio. Until we meet again, happy quilting.
Rebecca
Other Exciting Posts from Studio R Quilts